Still a firm favourite for those wanting a simple low centrepiece.
Make your centrepiece contemporary by incorporating LED Uplighting to create that unusual "Twist"
Now also available are our bespoke made risers that will lift the whole fishbowl centrepiece up from the table. Please ask for more details.
Take a look at the pictures at the bottom of this page from some of our recent events for ideas of how these vases can be used.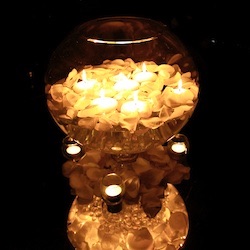 Ref: GLA414P
Height: 4" (10cm)
Diameter: 3.2" (8cm)
Diameter of Opening: 2.6" (6.5cm)
Capacity (To Top) L
TO HIRE: £0.50p + VAT (£0.60p) Each
Replacement Cost: £1.04 + VAT (£1.25) Each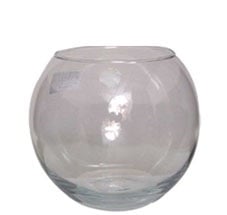 Ref GLA415P
Height: 4" (10cm)
Diameter: 5" (12.5cm)
Diameter of Opening: 3.2" (8cm)
Capacity (To Top) L
TO HIRE: £1.05p + VAT (£1.26) Each
Replacement Cost: £1.63 + VAT (£1.95) Each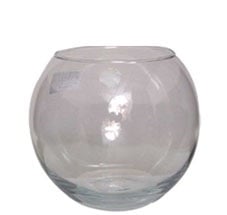 Ref GLA392P
Height: 4.8" (12cm)
Diameter: 6" (15cm)
Diameter of Opening: 4.4" (11cm)
Capacity (1/3rd Full) L
TO HIRE: £1.45p + VAT (£1.70) Each
Replacement Cost: £2.21 + VAT (£2.65) Each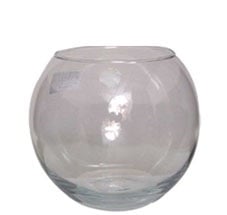 Ref GLA377P
Height: 15cm
Diameter: 7" (17.8cm)
Diameter of Opening: 11.5cm
Capacity (1/3rd Full) L
TO HIRE: £2.95p + VAT (£3.54) Each
Replacement Cost: £6.21 + VAT (£7.45) Each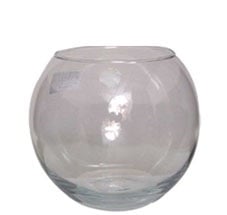 Ref GLA409P
Height: 6.8" (17cm)
Diameter: 8" (20cm)
Diameter of Opening: 6" (15cm)
Capacity (1/3rd Full)
TO HIRE: £3.45 + VAT (£4.14) Each
Replacement Cost: £6.63 + VAT (£7.95) Each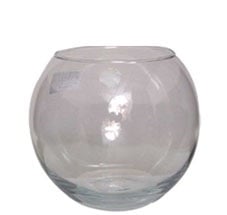 Ref GLA394P
Height: 8.4" (21cm)
Diameter: 10" (25.4cm)
Diameter of Opening: 4.4" (11cm)
Capacity (1/3rd Full)
TO HIRE: £3.85p + VAT (£4.62) Each
Replacement Cost: £7.92 + VAT (£9.50) Each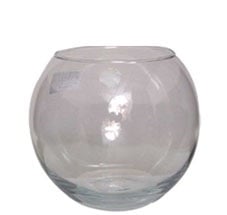 Ref GLA445P
Height: 9.6" (24cm)
Diameter: 12.2" (31cm)
Diameter of Opening 21.5cm
Capacity (1/3rd Full) L
TO HIRE: £5.80p + VAT (£6.96) Each
Replacement Cost: £14.12 + VAT (£16.95) Each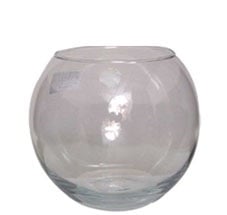 Ref GLA353
Height 29.5cm
Diameter 14" (35.5cm)
Diameter of Opening 22cm
Capacity (1/3rd Full) L
TO HIRE: £8.25p + VAT (£9.90) Each
Replacement Cost: £19.16 + VAT (£22.99) Each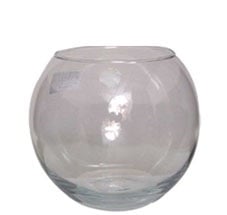 16" Clear Fish Bowl
Ref GLA2101
Height: 14" (35cm)
Diameter: 16" (40cm)
Diameter of Opening: 9.2" (23cm)
Capacity (1/4 Full) L
TO HIRE: £11.83p + VAT (£14.20) Each
Replacement Cost: £28.79 + VAT (£34.55) Each